NJ 1920s Route 1
Route 1 ran from Jersey to Trenton.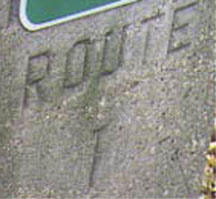 Pictures of Route 1
| | |
| --- | --- |
| | Bridge over branch of the Raritan River in Woodbridge, northbound side. We have travelled the entire length of old Route 1 over the past year, and we finally found this, the only remaining trace of the old number. Photo taken 10/27/2001 |
| | Same side, showing the date stamp (1926). This is one of several instances we have found where the date on one side was not the same as the date on the other side. Photo taken 10/27/2001 |
| | Old Route 1, now known as NJ 27, heading south towards Edison. This road was part of the old Lincoln Highway. It is still signed as the Lincoln Highway in Edison. Photo taken 10/27/2001 |
| | This is the date stamp from the same bridge, on the southbound side. 1919 is the earliest date stamp we have located - we have found two of these. The other one is on Route 13, also on a Lincoln Highway segment. Photo taken 10/27/2001 |
| | Rt 1 Sec 12 12/23 NE across deHart Place. From NJ State Archives |
| | Rt 1 Sec 12 12/23 at sta 498 and 70 Looking north. From NJ State Archives |
| | Rt 1 Sec 12 9/23 " 13' east of west curb line looking N among edge of Old Warrenite Point. From NJ State Archives |
History of Route 1
NJDOT 1916 Annual Report: Beginning at St. George's avenue (Rahway Avenue) at the south city line of Elizabeth and following it to the Pennsylvania Railroad in Rahway thence along the north side to the railroad along the Essex and Middlesex turnpike to the grade crossing between Colonia and Iselin; thence along a new right of way to the beginning of Middlesex avenue in Menlo Park thence along Middlesex avenue to Metuchen detouring at Lake street to avoid a grade crossing, and passing the Lehigh Valley Railroad station and thence back on Middlesex avenue thence along Middlesex avenue to the Albany street bridge over the Raritan river to the New Brunswick City line beginning again at the Cranbury turnpike at the south city line of New Brunswick and along the said turnpike to Hightstown; thence through Windsor, Robbinsville Hamilton Square and Mercerville to Greenwood avenue, and thence along Greenwood avenue to the Trenton city line
1922, Chap. 253: Extension of Route #1, From the entrance of the vehicular tunnel under the Hudson River in Jersey City, thru the City of Jersey City and the County of Hudson, to, through and beyond the City of Newark in the County of Essex, through and beyond the City of Elizabeth in the County of Union to the point of beginning of said Route #1.
NJHD 1925 Official State Map: Route No. 1 Jersey City to Trenton, via Newark, Elizabeth, Rahway, Metuchen, New Brunswick, and Hightstown. All hard surface pavement. From Jersey City to New Brunswick this route is the Lincoln Highway and is to connect at Jersey City with the Hudson River Vehicular Tunnel, when work is completed in 1926.
Dan Moraseski: Trenton to Jersey City on NJ 33-US 130-NJ 27-US 1&9-TRUCK US 1&9. NJ 33-US 130-CR 642 thru Windsor-NJ 33-CR 539 from Hightstown-Old Highstown Rd-CR 535-Main St in Cranbury-US 130-CR 679 thru Dayton and Deans-CR 697 in Deans-US 130-CR 695 in Red Lion-US 130-CR 695 again-US 130-NJ 171-NJ 27-CR 669 thru Metuchen-NJ 27-Broad St in Newark-Market St-Raymond Blvd-TRUCK US 1&9-CR 605 in Jersey City-CR 501-CR 644.
---