NJ 1920s Route 2
Route 2 ran from Camden to Trenton.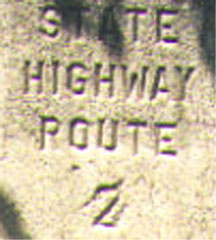 Pictures of Route 2
| | |
| --- | --- |
| | Bridge over Crosswicks Creek, southbound side, in Bordertown. A lovely bridge in a lovely town. This road is now County Road 622 (Burlington Road), so it remains untouched by the barricade! Photo taken 9/3/2000 |
| | Same side, showing the date stamp (1921). This is the only instance of a vintage metal-side bridge of which we were aware of at the time. Later, we discovered another on old Route 15, which we suspect is from the 1920s as well, but we couldn't read the date stamp behind the barricade. Photo taken 9/3/2000 |
| | This is the northbound side of the road. Old Route 2 meets the modern world as it crosses under Interstate 295. Most of Old Route 2 was eventually absorbed by US 130, which was made into a divided highway, so there aren't many traces of old Route 2 bridges left. This old alignment was bypassed by US 130. Photo taken 9/3/2000 |
| | Also the northbound side of the bridge, heading south this time. This is a closeup of the pedestrian walkway. This bridge is in amazing shape, especially considering its age.Photo taken 9/3/2000 |
| | Rt 2 11/26/26 Rt. 2 Sec 9 Camden County Pensauken Creek - Union S.H. From NJ State Archives |
History of Route 2
NJDOT 1916 Annual Report: Trenton to Camden - From Trenton city line, along the White Horse road, White Horse road extension and Trenton road to Park street and Farnsworth avenue. Bordentown thence along Florence road to Burlington thence through Burlington to and along the Camden-Burlington pike to the Camden City line.
NJDOT 1917 Annual Report: Route No. 2 Trenton to Camden. By way of South Broad Street, Trenton, to White Horse, thence over Croswicks' Creek bridge to Bordentown, thence to Fieldsboro, thence to Roebling, to Burlington, and via the Burlington Pike into Camden. Except for minor changes to reduce curvature, there are no changes of alignment contemplated.
1922, Chap 253 and 265: Extension of Route #2, From the terminal point of said route at the city line of the City of Camden, thru the said City of Camden to the approach or entrance of the bridge proposed to be constructed over the Delaware River by the States of New Jersey and Pennsylvania.
1922, Chap 265: Extension of Route #2, Including a spur extending from the property line of the Tacony-Palmyra Ferry Company to the Burlington Pike at Five Points.
NJHD 1925 Official State Map: Route No. 2 Trenton to Camden, via Bordentown, Fieldsboro, Roebling, Burlington, and Bridgeboro. South Broad Street, Trenton, and section through Burlington, and a section 4 miles in length extending south from Bridgeboro to be under construction. All other sections hard-surface pavement. This route is to connect with Camden-Philadelphia bridge when this project is completed in 1926.
Dan Moraseski: Camden to Trenton on US 130-US 206.CR 537-CR 610-US 130-CR 657 thru Burlington-US 130-CR 662 thru Fieldsboro and Bordentown-US 206.
Charles Johnson: On US 130 S in Burlington soon after the intersection w/543, there is a bridge with a plaque from the '20s. I thought you should know even though I haven't been able to get a pic yet.
---