NJ 1920s Route 5
Route 5 ran from Newark to Delaware NJ.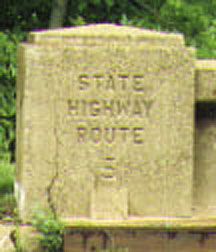 Pictures of Route 5
| | |
| --- | --- |
| | This bridge, built in 1924, has the original route markings, heading east on current-day US 46 from Hackettstown to Washington. In this section, it is actually multiplexed with Old Route 12, but is marked only as Route 5. Photo taken 6/18/2000 |
| | A beautiful, unspoilt specimen of a small bridge, built in 1922. Westbound side of current-day US 46 in Hackettstown. Photo taken 6/18/2000 |
| | TIn Delaware NJ, this is the final leg of old Route 5 (I believe it's now known as NJ 163, although unmarked.) This is the original roadbed. To the left, you can see a bridge with the original markings. A railroad used to follow the road along the right side. Photo taken 6/18/2000 |
| | Old Route 5 unceremoniousy ends here. It used to majestically vault over the Delaware River into Pennsylvania. The bridge is long gone. We met someone who lived nearby and he said that the bridge was washed away in a storm. Photo taken 6/18/2000 |
| | Rt 5 1924 Sec 6 Speedwell Ave bridge sta 22 looking N From NJ State Archives |
History of Route 5
NJDOT 1916 Annual Report: "Along Springfield Avenue from Newark City line to Morris Avenue, Springfield; thence westerly along Morris avenue to Madison Avenue to Morristown thence along Speedwell Street through - Morris Plains, Mount Tabor to Denville; thence through Rockaway to Dickinson's bridge; thence along Black-well street- through Dover to the Sussex turnpike aid along the same to Ledgewood and to the culvert under the canal; thence along the Sussex-Newton turnpike to Netcong borough line trestle to avoid railroad grade crossings on a new line to Budd's Lake road; thence southerly along Budd's Lake road and a new road to he built along the eastern shore of Budd's Lake to Hackettstown leaving Hackettstown by the Denville road through Denville to the Buttzville road and the Buttvville-Belvidere road to the Delaware road; thence along the Delaware road and new line to Delaware and extending to the bridge over the Delaware river ending at the New Jersey-Pennsylvania Slate line. "
NJDOT 1917 Annual Report: "Route No. 5 From Newark to the bridge crossing the Delaware River near Delaware, via Morristown, Dover, Netcong, Budd's Lake, existing roads are contemplated, excepting between Netcong and Hackettstown. As the existing roads are very crooked, indirect, unimproved, and have very steep grades, an entirely new line was surveyed from Netcong via Budd's Lake to Hackettstown, approximately nine miles. It was also necessary to survey a new line to eliminate several objectionable railroad undercrossings in the vicinity of Delaware. Survey was also made for under crossing the Morris Canal near Netcong."
NJHD 1925 Official State Map: "Newark to Delaware Bridge at Delaware, via Irvington, Springfield, Madison, Morristown, Dover, Netcong, Budd Lake, Hackettstown and Buttzville. Under construction from Irvington to Springfield, and through Town of Dover."
---