NJ 1920s Route 9
Route 9 ran from Phillipsburg to Elizabeth.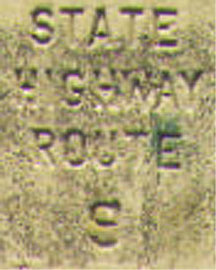 Pictures of Route 9
| | |
| --- | --- |
| | Not many unobscured reminders are left of old Route 9. This one is on lonely Main Street in Lebanon. I'll always remember this one, because I brushed some plants out of the way for the picture - they were poison ivy. We'll take more soon. Photo taken 6/18/2000 |
| | Paul Crowley - Reading about the old highways on your site I realized that I cross a bridge in Clinton NJ that was part of the original Route 9 that ran from Elizabeth to Phillipsburg. Photo taken 4/5/2002 by Paul Crowley |
| | Paul Crowley - This road became Route 22 and then when Route 78 bypassed the area became West Main Street in Clinton. Photo taken 4/5/2002 by Paul Crowley |
| | Paul Crowley - The bridge crosses the south branch of the ?? river. I am including a couple of pics of the bridge, as you cross the bridge you can see The Clinton House restaurant which was an original stage coach stop for travelers. Photo taken 4/5/2002 by Paul Crowley |
| | Rt 9 192? location unknown From NJ State Archives |
| | Rt 9 1927 Sec 9-8 sta 238 west up Bloomsbury hill From NJ State Archives |
History of Route 9
NJDOT 1917 Annual Report: "Route No. 9 Elizabeth to Phillipsburg. Westfield Avenue westerly from Elizabeth city line to Westfield; thence along South Avenue to the Plainfield city line; thence westerly from Plainfield city line on Front Street and Lincoln road to Union Avenue, through Bound Brook to Gaston Avenue and Cliff Street, Somerville; thence along Brunswick pike to the White House-Lebanon Road; thence along the Clinton-West Portal road through Bloombury and Still Valley to Phillipsburg. Except for flattening of curves and complete survey of route over Musconetcong Mountain to secure better line and grades than exist on present unimproved road, and possible changes in town of Clinton, no important changes from existing roads are contemplated."
1925 Official State Map: "Route No. 9 Elizabeth to Philipsburg, via Wsetfield, Plainfield, Bound Brook, Somerville, White House, Clinton, West Portal, and Bloomsbury."
Dan Moraseski: Phillipsburg to Elizabeth on US 22. NJ 122-US 22-NJ 173-I-78-NJ 173-CR 626-US 22-Main St thru Lebanon-CR 624 thru Whitehouse-CR 614 thru North Branch-NJ 28-CR 612 in Somerville-CR 533-CR 607-CR 514 SPUR-NJ 28.
Edward Fitzgerald 7/5/2004: On 9 I found a great one in North Branch - the route is now 614 - as it goes over the North Branch of the Raritan River. There is a full sidewalk on the north side of the road, so NO BARRIERS!!!! Another decent one on 9 is just west of Annandale - the route is now 626 - next to the state DOT garage. There is a barrier here, but it appears that effort was made not to block out the stamps. Both these roads are now county routes (Somerset and Hunterdon, respectively), so the counties may be a bit more historically conscious than the state. By the way, Main St. in Lebanon was formerly 622, but it appears to have been released to the borough. Also, the South Branch ??? River in Clinton is the South Branch of the Raritan River. Sometimes this is simply signed as the Raritan River. (In fact, on I-78, both north and south branches are signed as "Raritan River", leading the motorist to believe that 78 crosses the same River twice.) Other bridges now on Route 173 have been pretty well obscured, especially the Musconetcong River bridge at Bloomsbury, which I would call "armor - plated". Probably because the bridge is on a bend in the road. Correction, the bridge itself bends.
Edward Fitzgerald 7/12/2004: Had an unexpected opportunity to go through Clinton last night and took time to locate the abandoned section of road. The office building I referred to actually has retail uses on the first floor; one of these is a Dunkin Donuts. It is 186 Center St. There is a breezeway through the center of the building. To locate the bridge, walk through the breezeway and keep going straight back past the end of the rear parking lot. You can't miss it; I was there in the dark. Slightly overgrown, but VERY legible. No barricades, in fact the old post and cable guardrail can still be seen. The date on the bridge is 1926.
---