NJ 1920s Route 10
Route 10 ran from Paterson to Edgewater.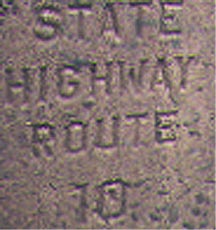 Pictures of Route 10
| | |
| --- | --- |
| | This marking is on a beat-up old bridge crossing the Saddle River between Saddle RIver and Elmwood Park on Market Street. There are nicer bridges on current-day Route 5. Photo taken |
| | This bridge is over the Passaic River, between Elmwood Park (we still remember it as "East Paterson") and the city of Paterson. In the background you can see Interstate 80. Westbound side. Photo taken |
| | Here is the date stamp from the same bridge. This is on the Eastbound side of Market Street. Photo taken |
| | The same bridge, showing an interesting lattice design. This is the only bridge we found constructed in this style. There is alsop a metal plaque on this bridge mentioning officers from both counties and the state highway department. This part of old Route 10 is no longer part of the state system. Photo taken |
| | Rt 10 Nov 1923 sec 1C looking N from sta 15 and 50 From NJ State Archives |
| | Rt 10 Dec 1923 Sec 2 Elm Ave intersection looking N From NJ State Archives |
History of Route 10
NJDOT 1917 Annual Report: "Route No. 10 Paterson to Fort Lee Ferry. From Market Street bridge over the Passaic River in Paterson easterly along Essex Street to Hackensack, through Hackensack and along Bergen Turnpike to Ridgefield, thence through Ridgefield and the Boroughs of Palisade Park, Fort Lee and Edgewater to the Hudson River. Necessary changes from existing roads require a complete new survey from Fort Lee Ferry, along the face of the Palisades to and through Borough of Cliffside Park, in and through Borough of Ridgefield, to Edgewater Avenue in Ridgefield, thence to Bergen Turnpike."
1925 Official State Map: "Route No. 10 Paterson to Fort Lee Ferry, via Dundee Lake, Hackensack and Ridgefield to Fort Lee Ferry at Edgewater."
Dan Moraseski: Paterson to Edgewater on US 46-NJ 5. CR 648-CR 12-CR 124-CR 40 (Hackensack River bridge no longer there)-CR 124-CR 17-US 1-NJ 5.
---