NJ 1920s Route 13
Route 13 ran from New Brunsick to Trenton.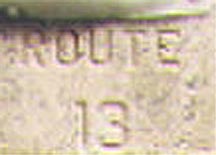 Pictures of Route 13
| | |
| --- | --- |
| | Try as we may, there appear to be no completely unobscured bridge markings for old Route 13. At least the route number is clearly visible on this one. Photo taken 8/5/2001 |
| | We were really excited about this, the oldest bridge we have located, dated 1919! If this highway gets re-paved one more time, the date stamp will be lost. Photo taken 8/5/2001 |
| | Heading south-west on old Route 13, towards Kingston and Princeton. This road is now NJ 27. Photo taken 8/5/2001 |
| | A good portion of old Route 13 was part of the Lincoln Highway. In Kingston, there is a very old bypassed segment of old Route 13 that is now part of the Delaware-Raritan Canal State Park. This bridge (dated 1798), with its directionals to Philadelphia and NYC, pre-dates both the state highway system and the Lincoln Highway. Photo taken 8/5/2001 |
History of Route 13
NJDOT 1917 Annual Report: Route No. 13 New Brunswick to Trenton. From the westerly city line of New Brunswick along Somerset Street to Franklin Park; thence continuing to Ten Mile run, to Kingston, and across the canal and Millstone river to and through Princeton Borough; thence to Lawrenceville and along the Lawrenceville-Trenton road and Princeton Avenue to the Trenton city line. Survey was made of proposed betterment at Kingston where line crosses the railroad and the Delaware and Raritan Canal. Surveys were made for minor alignment changes between Princeton and Lawrenceville.
NJDH 1925 Official State Map: Route No. 13 New Brunswick to Trenton, via Kingston, Princeton and Lawrenceville. This route is part of the Lincoln Highway. All hard-surfaced pavement.
Dan Moraseski: : US 206-NJ 27 from Trenton to New Brunswick . US 206-CR 583-NJ 27-CR 607 south of Kendall Park-NJ 27-Somerset St in New Brunswick
---