NJ 1920s Route 15
Route 15 ran from Bridgeton to Cape May Courthouse.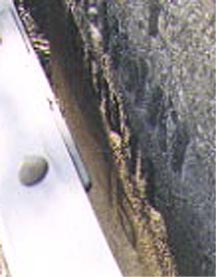 Pictures of Route 15
| | |
| --- | --- |
| | Bridge over an unknown stream (anyone out there know what it is?), southbound side. This is on the northern border of Rio Grande. We took the best picture we could from behind the barricade, with a little help from the sun!. There are no unobscured bridges with the route number. Further north on the road, there is a vintage metal bridge similar to the one we located for Route 2, but the barricade is right up against it. Photo taken 10/27/2001 |
| | Same side, showing the date stamp (1925). We did locate a bridge from 1928, but it had no route markings on it, presumably because the First Renumbering was underway at the time. Photo taken 10/27/2001 |
| | Heading north on Old Route 15 out of Rio Grande. This part of the highway is currently known as NJ 47. Photo taken 10/27/2001 |
History of Route 15
NJDOT 1917 Annual Report: Route No. 15 Bridgeton to Cape May Court House, or such other point on Route No. 14 as may be designated by the State Highway Commission. No survey of this route has been made, but a number of alignment changes for the elimination of grade crossing are advisable, and are now in contemplation.
NJDH 1925 Official State Map: "Route No. 15 Bridgeton to Route 14 at Rio Grande, via Millville, Port Elizabeth, Dennisville, Goshen, Dias Creek and Green Creek. Hard surfaced road from Bridgeton through Millville to Menatico Creek. Under construction between Menatico Creek and Port Elizabeth, and between Rio Grande and Green Creek."
Dan Moraseski: : NJ 47-NJ 49 from Rio Grande to Bridgeton . NJ 47-NJ 49
---