NJ 1920s Route 20
Route 20 ran from Westville to Millville.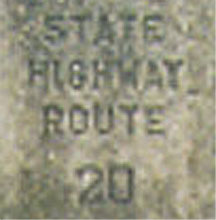 Pictures of Route 20
| | |
| --- | --- |
| | Current-day Route 47, southbound side, crossing unnamed creek in Brotmanville/Vineland. The way the new barricades SHOULD be built! Photo taken |
| | Same bridge and side as above, showing the 1927 date stamp. This was the last year that the old route numbers were used. Photo taken |
| | Heading south into Vineland on current-day route 47. This is the southern section of old Route 20. The other Route 20 was planned, but never fully incorporated into the system, making this the last highway built before the new numbering system went into effect in 1928. Photo taken |
History of Route 20
1923 NJDOT Annual Report: "Route No. 20__ From Westville to Millville commence at a point on Route No. 6 at Westville, extending through Hurffville, Glassboro, Malaga and Vineland to Millville."
NJHD 1925 Official State Map: Route No. 20 Westville to Millville, via Hurffville, Glassboro, Malaga and Vineland. TO be under construction in Westville. Hard surfaced pavement, Westville to Glassboro. Under construction from Glassboro to Clayton. Gravel section, Clayton to Millville. This road is popularly known as the Delsea Drive.
Dan Moraseski: Millville to Westville on NJ 47 . NJ 47-CR 615 thru Malaga-NJ 47.
---